ANALISIS KEMAMPUAN GURU TERHADAP PENERAPAN PRAKTIKUM PADA MATA PELAJARAN BIOLOGI DI SMA/MA SE KOTA SORONG
Keywords:
guru, praktikum, sorong.
Abstract
Penelitian ini bertujuan untuk mengetahui tentang analisis kemampuan guru terhadap penerapan praktikum pada mata pelajaran biologi di SMA Se Kota Sorong. Rancangan penelitian ini menggunakan metode survei yang rencana dilakukan pada bulan Juni sampai dengan Juli 2015. Sampel yang digunakan adalah12 sekolah SMA Negeri dan SMA Swasta di Kota Sorong. Instrumen yang digunakan dalam penelitian ini adalah wawancara, angket dan dokumentasi. Data yang akan digunakan adalah survei. Dari hasil penelitian tersebut diketahui bahwa siswa yang ada di SMA Negeri dan SMA Swasta mereka semuanya sudah melaksanakan kegiatan praktikum dengan alat dan bahan yang ada di sekolah masing-masing, dan diketahui bahwa SMA Advent lahannya sangat sempit sehingga mereka melaksanakan kegiatan praktikumnya hanya di ruang kelas saja, dibandingkan dengan sekolah lainnya lahan dan tempat praktikumnya sangat luas. Penelitian ini juga diketahui bahwa Guru yang ada di SMA Kota Sorong semuanya sudah melaksanakan kegiatan praktikum dan mengikuti pelatihan dengan baik.
Downloads
Download data is not yet available.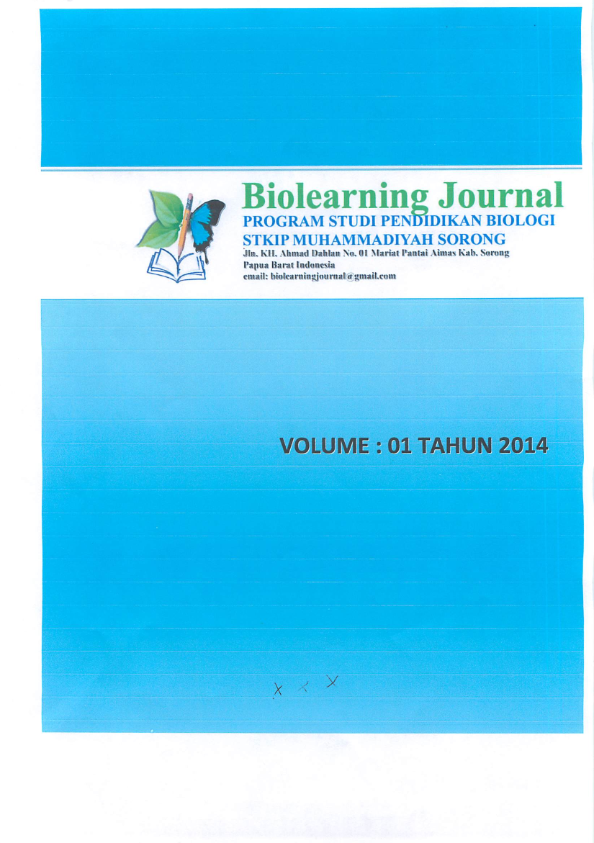 Authors retain copyright and grant the journal right of first publication with the work simultaneously licensed under a Creative Commons Attribution License that allows others to share the work with an acknowledgement of the work's authorship and initial publication in this journal.
Authors are able to enter into separate, additional contractual arrangements for the non-exclusive distribution of the journal's published version of the work (e.g., post it to an institutional repository or publish it in a book), with an acknowledgement of its initial publication in this journal.
Authors are permitted and encouraged to post their work online (e.g., in institutional repositories or on their website) prior to and during the submission process, as it can lead to productive exchanges, as well as earlier and greater citation of published work (See The Effect of Open Access).