Menyoal Pemberdayaan Guru Matematika
Keywords:
profesionalisme, pembelajaran matematika, dimensi pemberdayaan
Abstract
Pembelajaran matematika berkembang melalui berbagai model yang dikembangkan oleh para pakar. Kondisi tersebut menjadikan matematika bukan sebagai pelajaran yang sangat ditakuti oleh para siswa. Pengembangan model-model pembelajaran yang humanis, dapat dilakukan melalui pemberdayaan guru matematika. Terdapat enam dimensi untuk melakukan pemberdayaan guru, a) penglibatan dan pembuatan keputusan; b) peningkatan profesionalisme; c) status; d) kepercayaan diri; e) otonomi dan f) pengaruh. Melalui keenam dimensi tersebut profesionalisme guru dapat ditingkatkan yang mempunyai dampak pada peningkatan kualitas pembelajaran dan sebagai konsekuensinya adalah peningkatan kualitas prestasi siswa.
Downloads
Download data is not yet available.
References
Abd Rahim A.R.(2005). Profesionalisme Keguruan Prospek dan Cabarannya. Kuala Lumpur: Dewan Bahasa dan Pustaka
Abrar, N., Baloch, A. G., & Ghouri, A. M. (2010). Attitude of secondary schools' principles &
teachers toward inclusive education: Evidence from Karachi, Pakistan. European Journal of Social Sciences, 15(4), 573-582.
Adler, J., & Davis, Z. (2006). Opening another black box: Researching mathematics for teaching in mathematics teacher education. Journal for Research in Mathematics Education, 37, 270–296.
Ahmad Bazli S. (2004). The Educational Philosophy of Al Syaikh Muhammad Abduh. Kuala Lumpur:ISTAC
Ahmad, S. (2012). The Influence of Management Capabilities to the Effectiveness of School Implementation. International Journal of Economics Business and Management Studies, 1(3),104-113.
Bakhtiar. M. (1994). Membina Budaya Empowerment dalam Pengurusan Pendidikan. Makalah dipresentasikan di Seminar Nasional Pengurusan Pendidikan ke-4, Genting Hinghlands, 4-16 Nov 1994.
Çaka, F.S., (2012) The Relationship between the Self-efficacy and Life Satisfaction of Young Adults, International Education Studies; Vol. 5, No. 6; 2012. 123-1`30
Davis, B., & Simmt, E. (2006). Mathematics-for-teaching: An ongoing investigation of the mathematics that teachers (need to) know. Educational Studies in Mathematics, 61, 293–319.
Dedi S. (2003). Guru di Indonesia, Pendidikan, Pelatihan dan Perjuangannya sejak Zaman Kolonial hingga Reformasi. Jakarta: Departemen Pendidikan Nasional Dirjen Dikdasmen Direktorat Tenaga Kependidikan.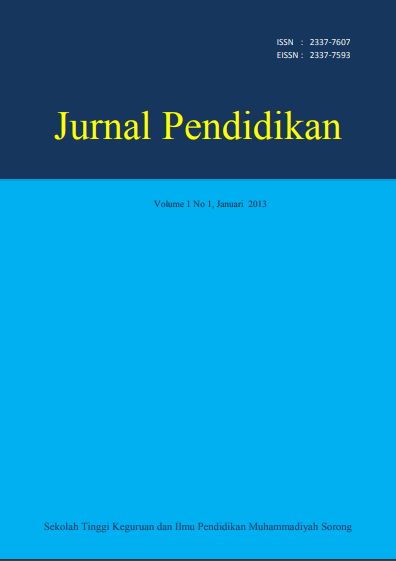 Authors retain copyright and grant the journal right of first publication with the work simultaneously licensed under a Creative Commons Attribution License that allows others to share the work with an acknowledgement of the work's authorship and initial publication in this journal.
Authors are able to enter into separate, additional contractual arrangements for the non-exclusive distribution of the journal's published version of the work (e.g., post it to an institutional repository or publish it in a book), with an acknowledgement of its initial publication in this journal.
Authors are permitted and encouraged to post their work online (e.g., in institutional repositories or on their website) prior to and during the submission process, as it can lead to productive exchanges, as well as earlier and greater citation of published work (See The Effect of Open Access).