Implementasi Kebijakan Organisasi PGRI dalam Mengembangkan Profesionalisme Guru Di Kecamatan Wagir Kabupaten Malang
Keywords:
organisasi profesi, profesionalisme
Abstract
Dalam penelitian ini , pendekatan yang digunakan adalah pendekatan kualitatif deskriptif. Sedangkan metode yang digunakan adalah observasi, wawancara, dan dokumentasi. Penelitian ini menunjukkan tentang: 1) Dasar kebijakan organisasi PGRI cabang Wagir 2) Fungsi dan peran PGRI cabang Wagir sebagai tempat terhimpunnya segenap guru dan tenaga kependidikan lainnya merupakanorganisasi perjuangan, organisasi profesi, dan organisasi ketenagakerjaan yang berdasarkan Pancasila, bersifat unitaristik, independen, dan tidak berpolitik praktis, 3) upaya yang dilakukan PGRI dalam mengembangkan profesionalisme guru antara lain dengan adanya program-program yang dibagi dalam beberapa bidang (bidang umum, organisasi, dan kaderisasi, bidang profesi dan pendidikan, bidang
ketenagakerjaan dan kesejahteraan, bidang pendidikan agama, bidang pemberdayaan perempuan, bidang pendidikan pra sekolah, pendidikan dasar dan generasi muda, bidang olah raga dan seni budaya, bidang advokasi dan hukum, bidang keuangan)
Downloads
Download data is not yet available.
References
Arikunto, Suharsimi. (2002), Prosedur Penelitian: Suatu Pendekatan Praktek. Edisi Revisi VI, Jakarta: Rineka Cipta.
Ashkanasy, Celeste P.M. Wilderom, dan Mark F. Peterson (eds), Handbook of Organizational Culture and Climate. California: Sage.
Barnard, C.I, (1968), The Functions of Executive, Cambridge: Harvard University Press
Basumi dalam Soetjipto, (2009), Profesi Keguruan, Jakarta: Rineka Cipta.
Blongger, O. (2010). Sejarah Singkat Lahir PGRI (Persatuan Guru Republik Indonesia), Diakses 25 November 2010, dari http://www.kaskus.us/showthread,php?=6050131
Bungin, Burhan. (2007), Metodologi Penelitian Kualitatif, Jakarta: Rajawali Press
Danim, S. (2000). Pengantar Studi Penelitian Kebijakan. Jakarta: PT. Bumi Aksara.
DEDs MaDe Blogs, (2011), Peran PGRI dalam Memperjuangkan Nasib Guru dan Meningkatkan Profesionalisme Guru, Diakses 22 Januari 2012, http://dedsmade.blogspot.com /2011/01/makalah-tentang-peran-pgriDunsire, A. (1973). Administration : The Word and the Science. Oxford : Martin Robertson.
Gerloff, E. A. (1985). Organizational Theory and Design : A Strategic Approach For Management. Singapura : McGraw-Hill.
Hermawan, S.R. (1989), Etika Keguruan. Suatu Pendekatan Terhadap Profesi dan Kode Etik Guru Indonesia, Jakarta: PT Margi Hayu.
Hicks, Herbert G and Gullett C. Ray, (1976), The Management of Organization,New York: MacGrawHill Company.
Ikatan Konselor Indonesia, (2008), dalam Akhmad Sudrajad, Menanti Peran Aktif Organisasi Profesi, diakses 8 Maret 2009 dari http://akhmadsudrajad.wordpress.com /author/akhmadsudrajad/
Kresno, Agus, (2010), Panduan Metodologi Penelitian, Malang: UMM
Kusdi, (2009), Teori Organisasi dan Administrasi, Jakarta: Salemba Humanika.
Majchrzak, A. (1984). Methods for Policy Research. Beverly Hills – London – New Dehli: Sage Publications.
Miles, M.B. dan Huberman, A.M. 1992, Analisis Data Kualitatif, Buku Sumber Tentang MetodeMetode Baru. Terjemahan oleh Tjetjep Rohendi Rohidi, Jakarta: Penerbit Universitas Indonesia (UI-Pers)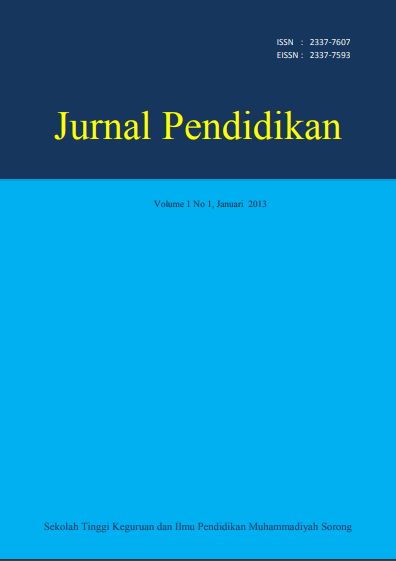 Authors retain copyright and grant the journal right of first publication with the work simultaneously licensed under a Creative Commons Attribution License that allows others to share the work with an acknowledgement of the work's authorship and initial publication in this journal.
Authors are able to enter into separate, additional contractual arrangements for the non-exclusive distribution of the journal's published version of the work (e.g., post it to an institutional repository or publish it in a book), with an acknowledgement of its initial publication in this journal.
Authors are permitted and encouraged to post their work online (e.g., in institutional repositories or on their website) prior to and during the submission process, as it can lead to productive exchanges, as well as earlier and greater citation of published work (See The Effect of Open Access).