Implementasi Pendidikan Karakter di Madrasah Ibtidaiyah Islamiyah Al Wathaniyah Jombang
Keywords:
pendidikan karakter, kegiatan sehari-hari
Abstract
Penelitian ini menggunakan metode pendekatan kualitatif deskriptif dengan teknik pengumpulan data melalui wawancara, observasi dan studi dokumentasi. Hasil dari penelitian ini mengatakan bahwa dalam implementasi pendidikan karakter di MI Islamiyah Al Wathaniyah melalui tiga pedoman pelaksanaan yaitu: 1) metode pelaksanaan; 2) Pelaksanaan di sekolah yang terdiri dari: a) kegiatan sehari – hari di kelas; b) budaya sekolah.; 3) Kegiatan di sekolah.
Downloads
Download data is not yet available.
References
Fudyartanta, Ki, (2000). Acuan Wawasan Pendidikan Budi Pekerti Dalan Rangka Pengembangan Kebudayaan Nadional Indonesia. Yogyakarta: Majelis Luhur Persatuan Taman Siswa.
Isna Aunillah, Nurla, (2011). Panduan Menerapkan Pendidikan Kaarakter di Sekolah. Jogjakarta:Laksana.
Kemendiknas. (2010). Pembinaan Pendidikan Karakter di Sekolah Menengah Pertama. Jakarta.
Lickona, T. (1992). Educating for character, How Our Schools Can Teach Respect and Responsibility. New York: Bantam Books.
Megawangi, Ratna. (2004). Pendidikan Karakter Solusi Yang Tepat Untuk Membangun Bangsa. Cimangis: IHF.
Moleong, L.J. (2005). Metode Penelitian Kualitatif. Bandung: Remaja Rosdakarya..
Nana Syaodih Sukmadinata. (2005). Metode Penelitian Pendidikan. Bandung: Remaja Rosdakarya.
Noor Syam, Mohammad. (1986). Filsafat Pendidikan dan Dasar Filsafat Pendidikan Pancasila. Surabaya: Usaha Nasional.
Slamet, (2010). Peranan Kepala Madrasah Untuk Peningkatan Kinerja Guru Di MIN Bancong Kab. Madiun. Malang: Universitas Muhammadiyah Malang.
Sondari, Sri. (2011). Implementasi Kebijakan Pendidikan Karakter di SMP Satu Atap Ar Rohmah Kabupaten Malang. Malang: Universitas Muhammadiyah Malang.
Sugiyono. (2009). Memahami Penelitian Kualitatif. Bandung: Alfabeta.
Suparno dkk, (2002). Model Pendidikan Karakter Bangsa.
Syafaruddin, (2008). Effektifitas Kebijakan Pendidikan. Jakarta: Rineka Cipta.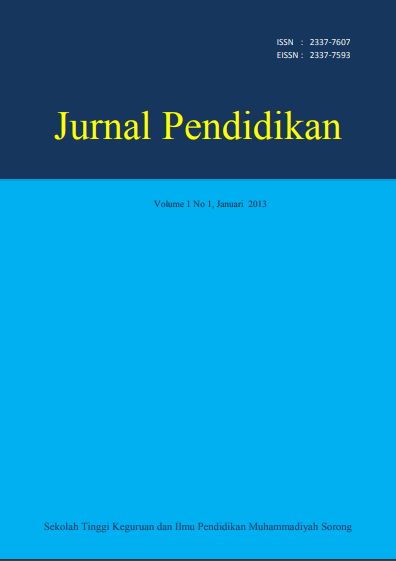 Authors retain copyright and grant the journal right of first publication with the work simultaneously licensed under a Creative Commons Attribution License that allows others to share the work with an acknowledgement of the work's authorship and initial publication in this journal.
Authors are able to enter into separate, additional contractual arrangements for the non-exclusive distribution of the journal's published version of the work (e.g., post it to an institutional repository or publish it in a book), with an acknowledgement of its initial publication in this journal.
Authors are permitted and encouraged to post their work online (e.g., in institutional repositories or on their website) prior to and during the submission process, as it can lead to productive exchanges, as well as earlier and greater citation of published work (See The Effect of Open Access).