Pengembangan Perangkat Asesmen Kinerja Berbasis Kompetensi pada Matakuliah Statistika Mahasiswa pendidikan matematika STKIP Muhammadiyah Sorong
Keywords:
penelitian pengembangan, asesmen kinerja, kompetensi
Abstract
Penelitian ini adalah penelitian Pengembangan Perangkat Asesmen Kinerja Berbasis Kompetensi pada Matakuliah Statistika Mahasiswa Program Studi Pendidikan Matematika STKIP Muhammadiyah sorong. Penelitian ini secara umum bertujuan me­ngembangkan perangkat asesmen kinerja pada matakuliah statistika, sedangkan lebih khusus ber­tujuan untuk mengembangkan standar yang akan dicapai mahasiswa pada mata kuliah statistika untuk setiap pertemuan tatap muka, mengem­bangkan tugas kinerja untuk mahasiswa pada setiap pertemuan tatap muka, mengembangkan rubriks untuk mengukur keberhasilan mahasiswa pada setiap pertemuan tatap muka, menilai daya terima mahasiswa terhadap matakuliah statistika. Analisis hasil data penelitian adalah bahwa asesmen kinerja yang dihasilkan tersebut telah dinyatakan (1) layak untuk digunakan berdasarkan penilaian pakar, (2) tingkat kesulitan tugas kinerja dan rubrik penilaian sangat rendah atau mudah dipahami, (3) tugas kinerja dapat dilaksanakan mahasiswa; jawaban tugas kinerja mahasiswa sesuai dengan permintaan tugas kinerja, (4) mahasiswa telah menyatakan bahwa rubrik dapat digunakan, (5) objektif, mahasiswa memperoleh hasil penilaian yang relatif sama dari dua evaluator sehingga rubrik telah memberikan penilaian yang objektif, (6) asesmen kinerja dinyatakan efektif yaitu tingkat kompetensi mahasiswa yang diperoleh dari asesmen kinerja pada kategori tuntas (telah memperoleh nilai ³ 70).
Downloads
Download data is not yet available.
References
Arikunto, S. (2006). Prosedur Penelitian Revisi VI. Jakarta: Rineka Cipta.
Asmawi, Z. (2001). Alternative Assesment. Jakarta: PAU untuk Peningkatan Pengembangan Aktivitas Instruksional.
Bahasa, T. P. (2008). Kamus Bahasa Indonesia. Jakarta: Pusat Bahasa .
Dodge, P. d. (2011, September 5). Assessment rubriks September 5, 2011,from adtech.kennesaw.edu: adtech.kennesaw.edu/intech/rubriks. Htm.
Kumano, Y. (2001). Authentic Assessment and Portfolio Assessment-Its Theory and Practice. Japan: Shizuoka University.
Marzano, R. e. (1994). Assessing Student Outcomes: Performance Assessment Using the Dimensions of Learning Model. Alexandria: Association for Supervison and Curriculum Development.
Nur, M. (2002). Asesmen Tradisional, Asesmen Kinerja, dan Rubrik. A reference used in the Overseas Felloship Program Contextual Learning Material Development Projek Peningkatan Mutu SLTP. Jakarta: Direktorat Pendidikan Lanjutan Pertama, Direktorat in Colaboration With the University of Washinton College of Education USA, State University of Surabaya, State University of Malang, and LAPI ITB.
Ratumanan, T. G. (2003). Evaluasi Hasil belajar yang Relavan dengan Kurikulum yang Berbasis Kompetensi. Surabaya: Unesa University Press.
Siswono, T. &. (2002). Penilaian Unjuk Kerja. Retrieved September 12, 2011, from tatagyes.wordpress.com: tatagyes.wordpress.com/karya-tulis
Stiggins, R. (1994). Student-Centered Classroom Assessment. New York : Macmillan College Publishing Company.
Sudjana. (2009). Metode Statistika. Bandung: Tarsito.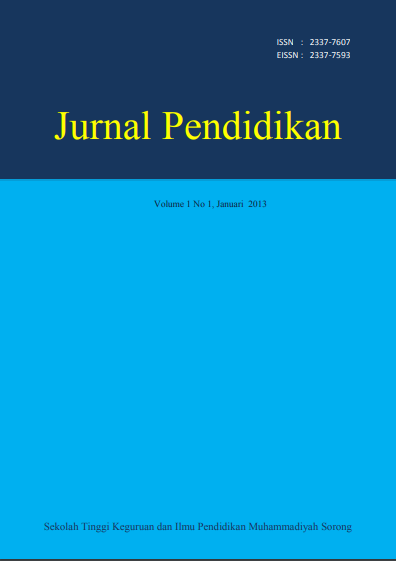 Authors retain copyright and grant the journal right of first publication with the work simultaneously licensed under a Creative Commons Attribution License that allows others to share the work with an acknowledgement of the work's authorship and initial publication in this journal.
Authors are able to enter into separate, additional contractual arrangements for the non-exclusive distribution of the journal's published version of the work (e.g., post it to an institutional repository or publish it in a book), with an acknowledgement of its initial publication in this journal.
Authors are permitted and encouraged to post their work online (e.g., in institutional repositories or on their website) prior to and during the submission process, as it can lead to productive exchanges, as well as earlier and greater citation of published work (See The Effect of Open Access).