Penggunaan Media Jam Untuk Meningkatkan Hasil Belajar Tentang Waktu pada Siswa Kelas II SD Inpres 98 Klafdalim Distrik Moisegen Kabupaten Sorong
Kaminem Kaminem

SD Inpres 98 Klafdalim
Keywords:
Media Jam, Hasil Belajar, SD Inpres 98 Klafdalim
Abstract
Penelitian ini untuk mengetahui adanya pengaruh penggunaan  media jam terhadap daya serap siswa dibandingkan tanpa menggunakan media Penelitian ini dilaksanakan dengan menggunakan subyek penelitian sebanyak 20 siswa di SD Inpres 98 Klafdalim Distrik Moisegen Kabupaten Sorong. Aspek yang menjadi indikator keberhasilan penelitian ini adalah proses siswa menemukan konsep, dan keterampilan menyelesaikan soal  dengan menggunakan media konkrit berupa jam asli dan jam buatan. Dengan menggunakan media jam ternyata daya serap siswa tentang waktu dirasakan lebih mudah. Pencapaian KKM terhadap kompetensi dasar dalam memahami waktu menunjukkan adanya peningkatan yang signifikan yaitu sebesar 60%. Hasil penelitian tindakan kelas ini diharapkan dapat memberikan manfaat bagi semua pihak, khususnya yang berkaitan dengan pemilihan media pembelajaran untuk meningkatkan keterampilan menyelesaikan soal soal matematika tentang waktu khususnya dan materi lain umumnya.
Downloads
Download data is not yet available.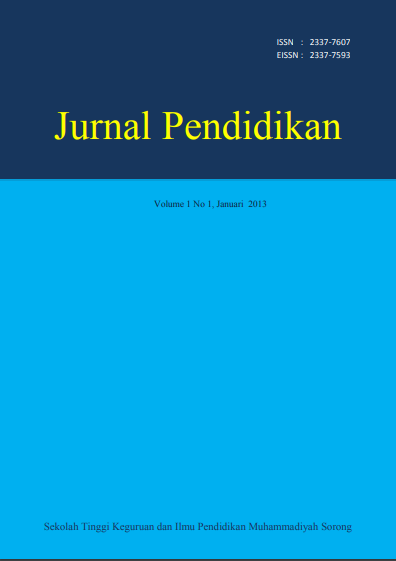 Authors retain copyright and grant the journal right of first publication with the work simultaneously licensed under a Creative Commons Attribution License that allows others to share the work with an acknowledgement of the work's authorship and initial publication in this journal.
Authors are able to enter into separate, additional contractual arrangements for the non-exclusive distribution of the journal's published version of the work (e.g., post it to an institutional repository or publish it in a book), with an acknowledgement of its initial publication in this journal.
Authors are permitted and encouraged to post their work online (e.g., in institutional repositories or on their website) prior to and during the submission process, as it can lead to productive exchanges, as well as earlier and greater citation of published work (See The Effect of Open Access).