Meningkatkan Hasil Belajar Pendidikan Kewarganegaraan Materi HAM Melalui Metode Problem Based Learning Bagi Siswa Kelas VII A SMP PGRI Salawati Pada Semester II Tahun Pelajaran 2017/2018
Milka Way

SMP PGRI Salawati Kabupaten Sorong
Keywords:
Metode problem based learning, hasil belajar, Pendidikan Kewarganegaraan, HAM, SMP PGRI Salawati
Abstract
Mata Pelajaran Pendidikan Kewarganegaraan merupakan mata pelajaran yang memfokuskan pada pembentukan warga negara yang memahami dan mampu melaksanakan hak-hak dan kewajibannya untuk menjadi warga negara yang baik, cerdas, terampil, dan berkarakter seperti yang diamanatkan oleh Pancasila dan UUD 1945. Pelaksanaan pembelajaran problem based learning berlangsung secara alamiah dalam bentuk kegiatan siswa bekerja dan mengalami, menemukan dan mendiskusikan masalah serta mencari pemecahan masalah, bukan transfer pengetahuan dari guru ke siswa. Berdasarkan hasil penelitian dan pembahasan peserta didik yang tuntas pembelajaran, dari prasiklus sebanyak 6 orang (25%) mejadi 15 siswa tuntas pada siklus I (62,5%) dan pada siklus II sebanyak 21 siswa (87,5%), sehingga dapat disimpulkan bahwa penggunaan problem based learning dalam pembelajaran Pendidikan Kewarganegaraan (PKn)  pada materi HAM dapat meningkatkan hasil belajar bagi siswa kelas VII-A SMP PGRI Salawati tahun pelajaran 2017/2018.
Downloads
Download data is not yet available.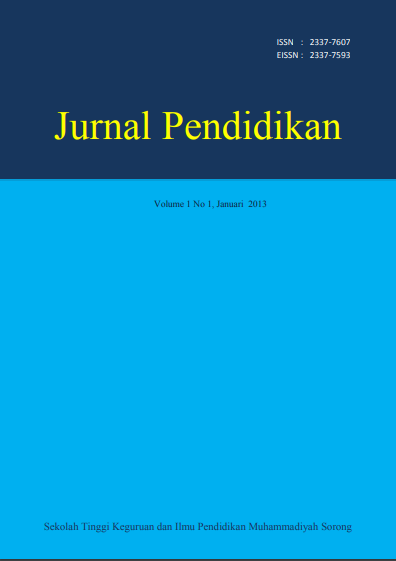 Authors retain copyright and grant the journal right of first publication with the work simultaneously licensed under a Creative Commons Attribution License that allows others to share the work with an acknowledgement of the work's authorship and initial publication in this journal.
Authors are able to enter into separate, additional contractual arrangements for the non-exclusive distribution of the journal's published version of the work (e.g., post it to an institutional repository or publish it in a book), with an acknowledgement of its initial publication in this journal.
Authors are permitted and encouraged to post their work online (e.g., in institutional repositories or on their website) prior to and during the submission process, as it can lead to productive exchanges, as well as earlier and greater citation of published work (See The Effect of Open Access).