Penggunaan Teknik Dictogloss Untuk Meningkatkan Kemampuan Mendengarkan Siswa
Elly Handajani

SMKN 3 Kota Sorong
Keywords:
Kemampuan mendengar, teknik dictogloss, SMKN 3 Sorong
Abstract
Mendengar adalah kemampuan dasar yang dibutuhkan untuk menguasai dan mendukung kemampuan lainnya seperti berbicara, membaca dan menulis. Tujuan penelitian ini adalah untuk mengetahui apakah penggunaan teknik dictogloss dapat meningkatkan kemampuan mendengarkan siswa SMKN 3 Sorong dikelas XI OD yang berjumlah 22 siswa. Penelitian ini adalah penelitian tindakan kelas yang dilakukan dalam 2 siklus. Teknik pengumpulan data diperoleh melalui (1) lembar observasi yang diterapkan untuk mengetahui kegiatan siswa selam proses belajar mengajar, (2) Tes objektif yang dilakukan untuk mengukur pencapaian siswa, dan (3) Catatan yang dilakukan untuk memperoleh informasi mengenai kegiatan dan ketrampilan siswa dalam mendengarkan dapat ditingkatkan dengan menggunakan teknik dictogloss. Seluruh siswa mendapatkan nilai yang bagus pada akhir siklus. Nilai ketuntasasn pada pelajaran Bhs Inggris adalah 75 (Tujuh Puluh Lima). Nilai rata-rata pada siklus 1 adalah 70.63. Nilai rata-rata siklus 2 adalah 78.19. Peningkatan ini merupakan hal yang  positif bagi guruBhsInggris dalam menerapkan tindakan. Kesimpilannya Teknik Dictogloss dapat meningkatkan kemampuan siswa dalam mendengarkan pada siswa kelas XI OD SMK 3 Sorong Th Ajaran 2016/2017.
Downloads
Download data is not yet available.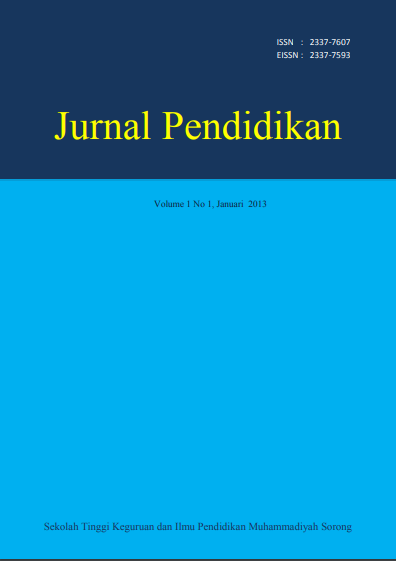 Authors retain copyright and grant the journal right of first publication with the work simultaneously licensed under a Creative Commons Attribution License that allows others to share the work with an acknowledgement of the work's authorship and initial publication in this journal.
Authors are able to enter into separate, additional contractual arrangements for the non-exclusive distribution of the journal's published version of the work (e.g., post it to an institutional repository or publish it in a book), with an acknowledgement of its initial publication in this journal.
Authors are permitted and encouraged to post their work online (e.g., in institutional repositories or on their website) prior to and during the submission process, as it can lead to productive exchanges, as well as earlier and greater citation of published work (See The Effect of Open Access).