IDENTIFIKASI LARUTAN BATANG Smilax Sp TERHADAP MOLUSKISIDA
Adolof Mambrasar

Universitas Pendidikan Muhammadiyah Sorong

Aung Sumbono

Universitas Pendidikan Muhammadiyah Sorong

Jaharudin Jaharudin

Universitas Pendidikan Muhammadiyah Sorong
Keywords:
Identifikasi, Batang Smilax Sp, Moluskisida, Pomaceae canalitulata –Larmack
Abstract
Tujuan penelitian adalah mengidentifikasi larutan batang Smilax Sp terhadap moluskisida. Jenis dan desain adalah eksperimen, dilaksanakan November hingga Desember 2021, di Laboratorium Terpadu UNIMUDA Sorong. Sampel yang digunakan adalah batang  (Smilax Sp) dan Pomaceae canalitulata–Larmack. Alat-alat yang digunakan adalah timbangan analitik, 3 gelas ukur, 3 gelas ukur 1000 ml, mortar, gunting, pena, buku, kamera. Bahan yang digunakan adalah batang Smilax Sp, Air Bersih, Pomaceae canalitulata –Larmack. Teknik analisis data digunakan adalah Uji Normalitas dan Linearitas Sederhana. Hasil penelitian menunjukkan bahwa adanya perubahan perilaku Pomacea canaliculata-Lamarck terhadap moluskisida yang mengarah pada mortalitas atau kematian, larutan batang  Smilax Sp terbukti mempengaruhi perilaku Pomacea canaliculata-Lamarck dibuktikan dengan indikator-indikator yang diamati selama 1 jam. Penelitian ini dibuktikan bahwa dengan tingkat kematian tertinggi pada konsentrasi 50% dan 75% memiliki nilai signifikansi (0.519 > 0.05).
Downloads
Download data is not yet available.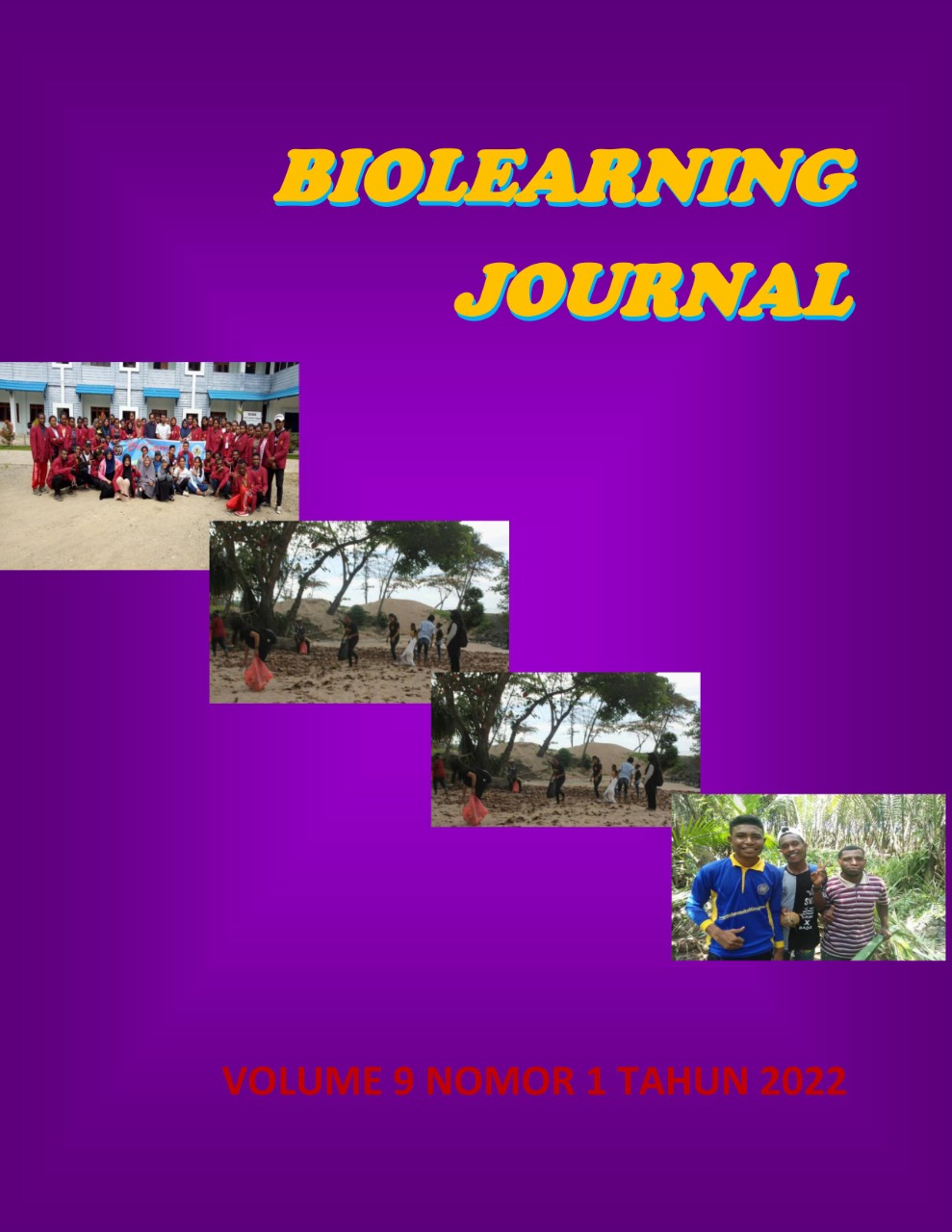 Authors retain copyright and grant the journal right of first publication with the work simultaneously licensed under a Creative Commons Attribution License that allows others to share the work with an acknowledgement of the work's authorship and initial publication in this journal.
Authors are able to enter into separate, additional contractual arrangements for the non-exclusive distribution of the journal's published version of the work (e.g., post it to an institutional repository or publish it in a book), with an acknowledgement of its initial publication in this journal.
Authors are permitted and encouraged to post their work online (e.g., in institutional repositories or on their website) prior to and during the submission process, as it can lead to productive exchanges, as well as earlier and greater citation of published work (See The Effect of Open Access).