UPAYA MENINGKATKAN HASIL BELAJAR IPA PADA MATERI BUMI DAN ALAM SEMESTA MELALUI METODE PEMBELAJARAN NUMBERED HEADS TOGETHER PADA SISWA KELAS VI SD INPRES 45 KABUPATEN SORONG SEMESTER II
Keywords:
umi, alam semesta, NHT
Abstract
Tujuan penelitian ini adalah meningkatkan hasil belajar ipa pada materi bumi dan alam semesta melalui metode pembelajaran numbered heads together pada siswa kelas VI SD Inpres 45 Kabupaten Sorong semester II tahun pelajaran 2015/2016. Penelitian ini merupakan penelitian tindakan kelas yang dilakukan di kelas VI SD Inpres 45 Kabupaten Sorong. Hasil Penelitian diperoleh Rata-rata aspek kognitif pada siklus I pertemuan ke I adalah 60,21 point dengan ketuntasan klasikal sebesar 29,20 % yang meningkat pada siklus I pertemuan ke II menjadi 62,29 dengan ketuntasan sebesar 45,83 %, kemudian pada siklus II pertemuan ke I meningkat menjadi 69,79 dengan ketuntasan klasikal sebesar 83,33% sedangkan pada pertemuan ke II menjadi 79,17 dengan ketuntasan klasikal sebesar 95,83%. Kesimpulan yang dapat diambil yaitu penggunaan pembelajaran NHT pada materi Bumi dan Alam Semesta dapat meningkatkan hasil belajar siswa kelas VI SD Inpres 45 Kabupaten Sorong tahun pelajaran 2015/2016 pada aspek kognitif maupun afektif pada siswa.
Downloads
Download data is not yet available.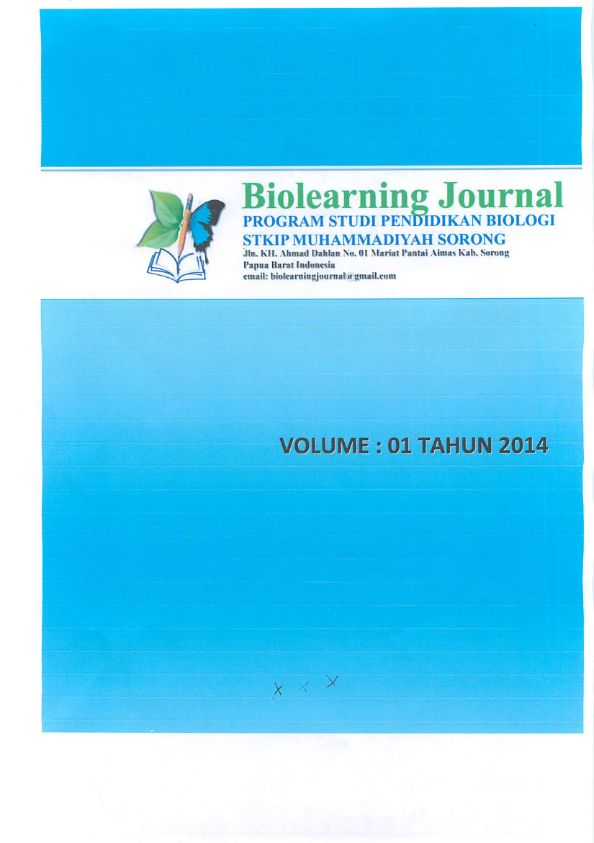 Authors retain copyright and grant the journal right of first publication with the work simultaneously licensed under a Creative Commons Attribution License that allows others to share the work with an acknowledgement of the work's authorship and initial publication in this journal.
Authors are able to enter into separate, additional contractual arrangements for the non-exclusive distribution of the journal's published version of the work (e.g., post it to an institutional repository or publish it in a book), with an acknowledgement of its initial publication in this journal.
Authors are permitted and encouraged to post their work online (e.g., in institutional repositories or on their website) prior to and during the submission process, as it can lead to productive exchanges, as well as earlier and greater citation of published work (See The Effect of Open Access).