IDENTIFIKASI ANATOMI TUMBUHAN SIRIH HUTAN (Piper aduncum L)
Keywords:
anatomi, akar, batang, daun, buah, Piper Aduncum L
Abstract
Tujuan penelitian ini untuk mengetahui anatomi tumbuhan sirih hutan. Instrumen yang digunakan yakni dokumentasi dan mikroskop. Penelitian yang menggunakan metode observasional. Populasi dalam penelitian adalah tumbuhan sirih hutan (Piper aduncum L). Sampel dalam penelitian adalah anatomi tumbuhan sirih hutan di Aimas Kabupaten Sorong. Variabel dependent/tetap adalah anatomi tumbuhan.Variabel independent/bebas adalah Anatomi tumbuhan sirih hutan. Hasil penelitin diporeh masa jenis yakni, akar 22.73 m/v, batang 14.10m/v, daun 13.11 m/v, buah, 9.3mv . Dan anatomi terdapat jaringan, epidermis, vascular silinder, parenkim, floem, xylem, jaringan dasar korteks dan tentunya memiliki fungsih yang berbeda. Dalam penelitian ini yang dikaji karakteristi anatomi akar diteliti ialah struktur epidermis, korteks, endodermis, floem, xylem, perisikel. Karakteristik anatomi batang yang diteliti ialah struktur epidermis, berkas pembuluh, parengkim. Karakteristik anatomi daun yang diteliti ialah epidermis, kolenkim, stomata, xylem floem. Karakteristik anatomi buah
tumbuhan yang di teliti ialah, epidermis, korteks, floem, xylem, vascular bundlc, parenchyma. Dari penelitian antomi tumbuhan sirih hutan yang di amati maka, dapat di simpulkan bahwa tumbuhan sirih hutan merupkan tumbuhan monokotil.
Downloads
Download data is not yet available.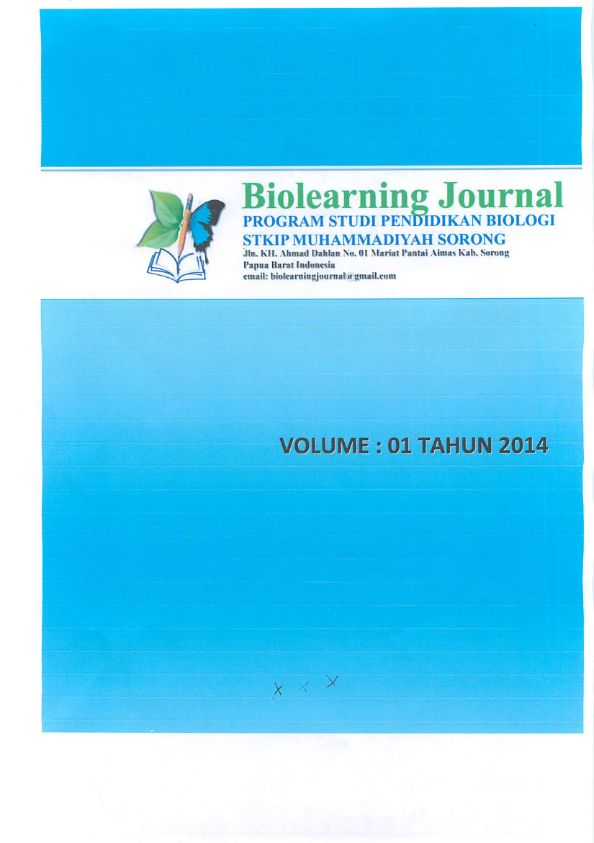 Authors retain copyright and grant the journal right of first publication with the work simultaneously licensed under a Creative Commons Attribution License that allows others to share the work with an acknowledgement of the work's authorship and initial publication in this journal.
Authors are able to enter into separate, additional contractual arrangements for the non-exclusive distribution of the journal's published version of the work (e.g., post it to an institutional repository or publish it in a book), with an acknowledgement of its initial publication in this journal.
Authors are permitted and encouraged to post their work online (e.g., in institutional repositories or on their website) prior to and during the submission process, as it can lead to productive exchanges, as well as earlier and greater citation of published work (See The Effect of Open Access).