PENGARUH MEDIA AUDIO VISUAL DENGAN PENDEKATAN SAINTIFIK TERHADAP HASIL BELAJAR SISWA MATERI SISTEM PENCERNAAN MANUSIA SISWA KELAS XI SMA NEGERI 2 KABUPATEN SORONG.
Mustika Irianti

Universitas Pendidikan Muhammadiyah Sorong

Idayati Rumakwai
Keywords:
media audio visual, pendekatan saintifik, hasil belajar.
Abstract
Tujuan penelitian dilatar belakangi dengan menciptakan kondisi tercapainya hasil konsep keilmuan biologi dengan menggunakan media, untuk mengetahui kemampuan siswa dalam menerima materi sistem pencernaan manusia menggunakan media audio visual dengan pendekatan saintifik. Metode penelitian yang digunakan dalam penelitian ini adalah penelitian kuantitatif dengan satu kelas eksperimen. Bentuk ekperimen dalam penelitian ini adalah Quasi Eksperimen pada jenis Non Equivalent Posstest Only Control Group Design dengan maksud hanya hanya mengambil tes akhir tanpa menggunakan tes awal. Populasi dalam penelitian ini adalah seluruh peserta didik kelas XI di SMA Negeri 2 Kabupaten Sorong dan sampel sampel yang digunakan adalah kelas XI IPA I sebagai kelas eksperimen. Hasil tes siswa berupa nilai rata-rata 77,83 yang kemudian dianalisis dengan rumus uji regresi linier sederhana menggunakan SPSS versi 20 sehingga diperoleh nilai signifikan 0,890 dengan probalitas 0,05. Hasil perhitungan tesebut menunjukkan bahwa signifikansi 0,890 > 0,05 sehingga dapat disimpulkan ada pengaruh media audio visual dengan pendekatan saintifik terhadap hasil belajar siswa kelas XIIPA I SMA Negeri 2 Kabupaten Sorong.
Downloads
Download data is not yet available.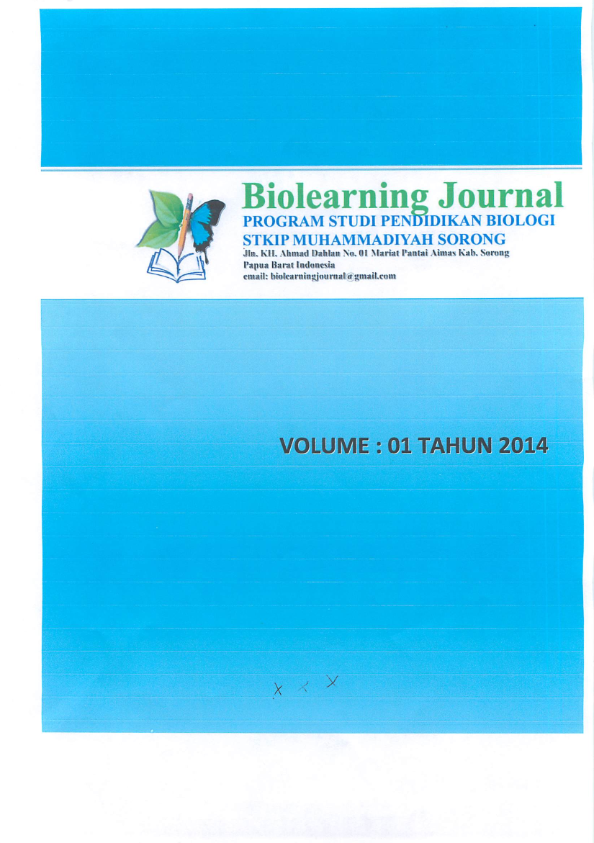 Authors retain copyright and grant the journal right of first publication with the work simultaneously licensed under a Creative Commons Attribution License that allows others to share the work with an acknowledgement of the work's authorship and initial publication in this journal.
Authors are able to enter into separate, additional contractual arrangements for the non-exclusive distribution of the journal's published version of the work (e.g., post it to an institutional repository or publish it in a book), with an acknowledgement of its initial publication in this journal.
Authors are permitted and encouraged to post their work online (e.g., in institutional repositories or on their website) prior to and during the submission process, as it can lead to productive exchanges, as well as earlier and greater citation of published work (See The Effect of Open Access).