HUBUNGAN ANTARA POLA BELAJAR DENGAN PRESTASI BELAJAR IPA PADA SISWA SMP YPK BETHEL AIMAS
Keywords:
Pola Belajar, dan Prestasi Belajar.
Abstract
Penelitian ini bertujuan untuk mengetahui Pola Belajar Dengan Prestasi prestasi Belajar IPA pada SiswSMP YPK Bethel Aimas. Dan kemampuan pola Berpikir siswa mata pelajar IPA pada tahun pelajaran2015/2016. Populasi dari SMP YPK Bethel Aimas. Sampel dalam penelitan ini sebanyak 22 siswa darpopulasi sebanyak 22 siswa yang di kelasa VIIIA. Teknik sampling yang digunakang adalah manual. Hasilpeniliutian menunjukan bahwa pola pembelajaran langsung atau koperatif nilai prestasi tertinggi baik 22 dan cukup 22% adalah pola pembelajaran kapasitas vital paru-paru, terdapat pengaruh pola pembelaranterhadap kreativitas siswa sebesar 18% dan terdapat pengaruh pola prestasi pembelajaran sebesar 9Sumbangan efektif terhadap kreativitas siswa pada pola pembelajaran cukup sebesar 22 dan kemampuapola berpikir sebesar 4,54%. Sehingan terdapat pengaruh yang signifikan antara pola pembelajaran daprestasi terdapat pengaruh kemampuan pola berpikir terdapat pengaruh antara pola pembelajaran daprestasi terdapat IPA.
Downloads
Download data is not yet available.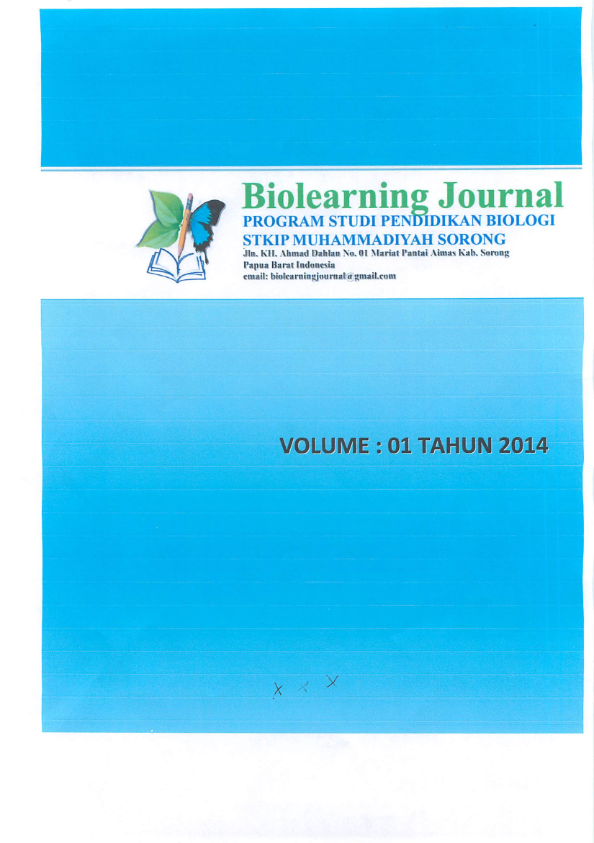 Authors retain copyright and grant the journal right of first publication with the work simultaneously licensed under a Creative Commons Attribution License that allows others to share the work with an acknowledgement of the work's authorship and initial publication in this journal.
Authors are able to enter into separate, additional contractual arrangements for the non-exclusive distribution of the journal's published version of the work (e.g., post it to an institutional repository or publish it in a book), with an acknowledgement of its initial publication in this journal.
Authors are permitted and encouraged to post their work online (e.g., in institutional repositories or on their website) prior to and during the submission process, as it can lead to productive exchanges, as well as earlier and greater citation of published work (See The Effect of Open Access).