The Implementation of Reciprocal Teaching Method (RTM) in Developing Reading Comprehension of the Second Grade Students of SMAN 2 Bantaeng
Andi Bulkis Maghfirah Mannong
Keywords:
Reciprocal Teaching Method, Reading Comprehension, Interest.
Abstract
This research is conducted to find out : (1) whether (or not) the implementation of Reciprocal Teaching Method develop the reading comprehension of the second grade students of SMAN 2 Bantaeng, and (2) to find out whether (or not) the use of Reciprocal Teaching Method interest the second grade students of SMAN 2 Bantaeng.This research employed a quasi-experimental. The population of this study was second grade students of SMAN 2 Bantaeng. This research uses cluster random sampling technique. Samples of students included in two classes; 25 students in the experimental class and 25 students in the control class. Data were analyzed SPSS version 20.0. This study shows an increase in learning  outcomes of the students in the classroom Improved student learning outcomes from posttest of control with an average score of 80.23> 76.40-test level of significance of 0.05 where the value of the value is higher than the significant level (0,000 <0 , 05). The average value of student interest in the experimental class is 65.14 where the value of standard deviation is 9,078 and categorized as interested. Thus, it can be concluded that the use of RTM improves reading comprehension of students and students who are interested in learning reading comprehension. 
Downloads
Download data is not yet available.
References
Blazer. (2000). The implementation of RTM among the students of Iranian University. Journal of Language Teaching and Research, 2 (1).
Block, C. C., & Pressley, M. (2002). Introduction. In C. C. Block & M. Pressley (Eds.), Comprehension instruction: Research- based best practices (pp. 1-7). New York: Guilford Press.
Brown, C. (2000). Identifying Factors which Promote or Hinder the Successful Transfer of StaffDevelopment to Classroom Practice. Unpublished Doctoral Dissertation. Texas A and M University
Carrell, P.L. (1988). Metacongnitive Strategy Training for ESL Reading. TESOL Quarterly, 23, 647-673.
Chegeni, N., &Tabatabei, O. (2014). Lexical Inferencing: The Relationship between Number and Density of Lexical Items and L2 Learners Reading Comprehension Achievement. Journal of Language Teaching and Research, 5 (2), 306-312.
Choo, T. O. L, Eng, T. K., & Ahmad, N. (2011). Effects of reciprocal teaching strategies on reading comprehension. The Reading Matrix, 11(2): 140-149.
Farhadi, H. (2005). Techniques for Effective Reading. Iran: Iran University of Science and Technology.
Freihat, S. and Makhzoomi, A.K. (2012). The Effect of theReciprocalTeachingProcedure (RTP) on Enhancing EFL Students' Reading Comprehension Behavior in a University Setting. International Journal of Science and Humanities, 2(5).
Good, (1959). The Dictionary of Education. New York: McGraw-Hill Book Company.
Grabbe, W. (1988). Current Developments in Second Language Research. TESOL Quarterly, 25, 375-406.
Grellet, F. (1987). Developing Reading Skills. Cambridge: Cambridge University Press.
Guterman, E. (2003). Integrating Written Metacognitive Awareness Guidance as A Psychological Tool to Improve Student Performance. Learning and Instruction, 13(16), 633-651.
Hosenfeld, et al. (1993). Activities and Materials forImplementing Adapted Versions of Reciprocal Teaching in Beginning Intermediate andAdvanced Levels of Instruction in English, Spanish, and Frenchas a second/foreignlanguage. Unpublished Manuscript, SUNY at Buffalo.
Hornby, et.al (2002). The Advances Learner's Dictionary to Current English.
Third Edition. London: Oxford University Press.
Jafarigohar, & Soelamani. (2013). Impact of RTM in Teaching EFL. Journal of RALs, 6 (1).
Karbalaei, A. (2010). A Comparison of the Metacognitive Reading Strategies Used by EFL and ESL Readers. Reading Matrix, 10 (5), 165-180.
Kirmizi, S. F. (2009).Relationship between Reading Comprehension Strategy Use and Daily Free Reading Time.Elseiver Journal,2 (2), 4752-4756.
Lau, K., & Chan, D. W. (2003). Reading Strategy Use and Motivation among Chinese Good and Poor Readers in Hong Kong. Journal of Research in Reading, 26(2), 177-190.
Pressley, M. (2002). Reading Instruction that Works (2nd ed). New York:Guilford Press.
Pintrich, R.E., Romeo,G.C., & Muller, S.A.B. (1999). Integrating Reading Strategies into the Accounting Curriculum. College Student Journal. 33(1): 77-82
Rice, M. (2009). Research-Based Reading Instruction: Reading Comprehension Skills and Strategies--- Florida Center for Reading Research: Making Connections. Educators Publishing Service.
Souvignier, E., &Mokhlesgerami, J. (2006). Using Self-Regulation as a Framework for Implementing Strategy Instruction to Foster Reading Comprehension. Learning and Instruction, 16(1), 57-71.
Tabatei, O., &Khalili, S. (2014). The Effect of RTM on Iranian Preintermediate L2 Reading Comprehension. Journal of Language Teaching and Research, 5 (6), 1368-1380.
Tierney, R. J. &Readence. J. E. (2005). Reading Strategies and Practices: A Compendium (6th Ed.). Boston: Allyn and Bacon.
Trabasso, T., & Bouchard, E. (2002). Teaching Readers How to Comprehend Text Strategically. In C. C. Block & M. Pressley (Eds.), Comprehension Instruction: Research-Based Best Practices (Pp. 176-200). New York: Guilford Press.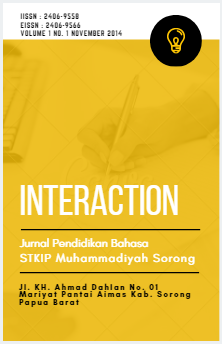 How to Cite
Mannong, A. B. (2018). The Implementation of Reciprocal Teaching Method (RTM) in Developing Reading Comprehension of the Second Grade Students of SMAN 2 Bantaeng. INTERACTION: Jurnal Pendidikan Bahasa, 5(2), 1-12. https://doi.org/10.36232/jurnalpendidikanbahasa.v5i2.177