THE EFFECTIVENESS OF STORYTELLING STRATEGY TO IMPROVE STUDENTS' READING COMPREHENSION AT SECOND GRADES OF MTs AL-MA'ARIF 1 KABUPATEN SORONG
Doni Sudibyo

Ari Wibowo

Wa Riani Hatam
Keywords:
Story telling Strategy, Reading Comprehension.
Abstract
This research aimed to know the effectiveness of storytelling strategy to improve the students' reading comprehension at second grades of MTs Al-Marif 1 KabupatenSorong. Storytelling was one of the good strategy in teaching learning process especially in teaching reading, because it can make the student was easier to understand about the text/story. In this research, the researcher used Quasi-experimental design. The subject of this research was VIIIC as experiment class that consist of 30 students: 16 males and 14 females, and VIIIB as control class that also consist of 30 students: 15 males and 15 females. The instruments were collected by using test (pre-test and post-test). The form of the test was essay and true false question. After giving the pre-test to students, the researcher gave the treatment and the steps in teaching learning process were: (1) the teacher divides  the student into four groups, one group consist of 7-8 students; (2) the teacher divides the story of narrative text in each group; (3) teacher tell the story by using gesture, tone of voice and movement in the text/story; (4) after tell the story, teacher writes the questions the whiteboard; (5) teacher gave 15-20 minutes in every group to discuss the answer of the questions, then teacher ask one of students in each groups to read their answers. After giving the treatment, the researcher gave the post-test. The researcher used  to analyze the result that the students got. Based on the finding in this research, the researcher can conclude that the alternative hypothesis (Ha) was accepted and null hypothesis (Ho) was rejected  or it can be said that Storytelling Strategy was effective to improve the student's reading comprehension at the second grade of MTS Al-Ma'arif 1 KabupatenSorong. It was supported by the result which show that the value of  was 2,356 and the value of from the df (58) on degree of significance of 5% was 2.00. It means that the value of  is higher than the value of
Downloads
Download data is not yet available.
References
Al-Mansour, N. (2011). The Effect of Teacher's Storytelling Aloud on the Reading Comprehension of Saudi Elementary Stage Students. Saudi Arabia, Riyadh: King Saud University.
Arikunto, S. (2003). Dasar-Dasar Evaluasi Pendidikan. Jakarta :PT Rineka .
Arikunto, S. (2010). Prosedur Penelitian Suatu Pendekatan Praktik. Jakarta:Rineka Cipta.
Broughton, G. (2003). Teaching English as a Foreign Language. New York: Routledge.
Campbell, Donald, T. and Stanley, M. (1996). Experimental and Quasi Experimental Design for Research. Chicago: Rand McNally.
Elizabeth. S. Pang. 2000. Teaching Reading. International Bureau of Education.
Eder, D. (2007). Bringing Navajo storytelling practices into schools: The importance of maintaining cultural integrity. Anthropology and Education . 38, (3), 278-296 .
Ellis, G. & Brewster, J. (2002). Tell it again! The new storytelling handbook for primary teachers. New York: Longman.
Grabe,W. &Stoller, F.L (2002) Teaching and Researching Reading. New York: Pearson Education.
Hiebert, H.et al. (2005). Teaching and Learning Vocabulary. London : LEA.
Harmer, J. (2001). The Practice of English Language Teaching. China: Longman.
Julian and Richard. (2004). Extensive Reading Activities for Teaching Language. New York: Cambridge.
Lordly, D. (2007). Once upon a time: Storytelling to Enhance Teaching and Learning. Canadian Journal of Dietetic Practice and Research. 68,(1), 30-35.
Ministry of Education (2006). English for Palestine Curriculum, Student's Book (fouth ed.). Grade, Macmillan: UK.
Patel, M.F., Jain, M. and Praveen. (2008). English Language Teaching (Methods, Tools and technique). Jaipur : Sunrise.
Shelly .J. (2010). Read it again please! The importance of story time. Available in : http://www.awakeparent.com/Shelly/importance-of-story-time [28 September 2017]
Scott, et.all. (2004). Teaching English to Children. London: Longman.
Sugiyono. (2007). Metode Penelitian Kuantitatif Kualitati dan R&D. Bandung. Alfabeta.
Suharsimi and Arikunto, (2009). ManajemenPenelitian. Jakarta. Rineka Cipta.
Setyosari, P. (2013). Metode Penelitian Pendidikandan Pengembangan. Jakarta :Kencana Prenadamedia Group.
Setiyadi, A. (2006). Metode Penelitian Untuk Pengajaran Bahasa Asisng :Pendekatan Kuantitatif dan Kualitatif. Yogyakarta: GrahaIlmu.
Umiyati. (2011). The Effectiveness of Using Small Group Interaction in Teaching Reading Comprehension. A research report. Jakarta: Unpublished paper.
Mokhtar, et al. (2010). The Effectiveness of Storytelling in Enhancing Communicative Skills in Foundation English course. Centre of General Studies, Malaysia: University Kebangsaan. Available at: www.sciencedirect.com [20 desember 2016].
Maynard, B. (2005). The Importance of Story. Available in :http://subversiveinfluence.com/2005/01/the-importance-of-story/ [20 desember 2016].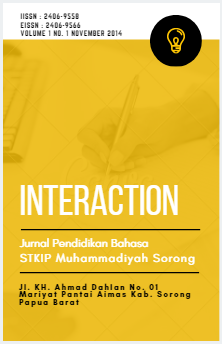 How to Cite
Sudibyo, D., Wibowo, A., & Hatam, W. (2018). THE EFFECTIVENESS OF STORYTELLING STRATEGY TO IMPROVE STUDENTS' READING COMPREHENSION AT SECOND GRADES OF MTs AL-MA'ARIF 1 KABUPATEN SORONG. INTERACTION: Jurnal Pendidikan Bahasa, 5(2), 58-67. https://doi.org/10.36232/jurnalpendidikanbahasa.v5i2.182