THE EFFECTIVENESS OF USING TIC TAC TOE GAMES IN STUDENTS UNDERSTANDING ON SIMPLE PRESENT TENSE AT THE FIRST GRADE OF SMP N 1 KABUPATEN SORONG
Nursalim Nursalim

Rizqi Claudia Wardani H

Agnesia Ultha Irianti Karraske
Keywords:
Tic Tac Toe Game, Simple Present Tense
Abstract
Learning simple present tense for student is to present something happen about the situation now, a feeling and to make an opinion. The researcher was investigating and doing the research. This study was to find out whether using Tic Tac Toe game is more effective than using conventional method to make students more understand in simple present tense at first grade students of SMP N.1 Kabupaten Sorong in academic year of 2016/2017. The samples were sixty students from two hundred and forty seven of the population, they are from first grade A as experiment group and first grade C as control group. The data were collected by pre-test and post test to both of classes. After give the pre-test, the researcher give treatment, the steps of the class activities are; (1)the implementation of the game is the teacher give the key word on the board; (2)the students makes a group to determine be (X) or (O) groups; (3)after that, the students group (X) or (O) will discuss together about the strategy to answer the key word and to win the game; (4)if the students group can not answer or make a wrong answer from the key word, the other groups will be given the chance to answer it. After treatment post test is given to both of groups. The researcher was using quantitative research and quasi experimental as the design. The result of this study showed that use game especially Tic Tac Toe game was effective in student understanding of simple present tense. It showed from the result of post-test in experiment group, that is higher than control class. It could be proved from the result of T-Test, which is ttest 4,598 ≥ ttable 2,000. It means the result ttest was higher than ttable so, is refused and is accepted. The researcher concluded that Tic Tac Toe game was effective on student understanding in simple present tense.
Downloads
Download data is not yet available.
References
Arikunto, S. (2010). Prosedur Penelitian Suatu Pendekatan Praktik. Jakarta :Rineka Cipta.
Azzar & Betty, S. (1985). Fundamentals of English Grammar. New Jersey : Prentice–Hall
Booji, G. (2007). The Grammar of Words An Introduction to linguistic Morphology. New York: Oxford University Press
Brown, H. D .(1988). Principles of Language Learning and Teaching. New Jersey: Prentice-Hall.
Cahyono, at.all. (2011). The Teaching of English as a Foreign Language in Indonesia. Malang: State University of Malang Press.
Gay, L.R. (1992). Educational Research Competencies for Analysis and Application (fourth ed.). New York : Macmillan, Inc.
Kim, L. S. (1995). Creative Games for The Language Class. Forum. 33,(1).
Qomariah, N. (2010). The Effectiveness of Teaching Simple Present Tense Using Card Game: An Experimental Research At The First Grade Of MTs. Darul Ulum Purwogondo Kalinyamatan Jepara In Academic Year of 2009/ 2010. English Departement Tarbiyah Faculty: Walisongo State Institute For Islamic Studies Semarang.
Richard , J. C and Rodgers, T. S. (2001). Approach and Methods in Language Teaching. Cambrifge, UK: Cambridge University.
Rodgers & Brown. (2002). Doing Second Language Research. Cambridge : Oxford Press.
Sugiyono. (2009). Metode Penelitian Kuantitatif. Kualitatif Dan R&D. Bandung: Alfabeta.
Thornburry, S. (2006). Research Book for Teachers: Grammar. Publisher Oxford University Press.
Thomson, A. J and A. V Martinet. (1986). A Practical English Grammar. Oxford :University Press.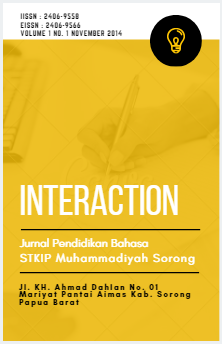 How to Cite
Nursalim, N., Wardani H, R., & Karraske, A. U. (2018). THE EFFECTIVENESS OF USING TIC TAC TOE GAMES IN STUDENTS UNDERSTANDING ON SIMPLE PRESENT TENSE AT THE FIRST GRADE OF SMP N 1 KABUPATEN SORONG. INTERACTION: Jurnal Pendidikan Bahasa, 5(2), 80-90. https://doi.org/10.36232/jurnalpendidikanbahasa.v5i2.184