THE IMPLEMENTATION OF TALKING STICK TO IMPROVE STUDENTS' VOCABULARY MASTERY AT THE TENTH GRADE OF SMA NEGERI 2 KABUPATEN SORONG
Ari Wibowo

Nursalim Nursalim

Fransiska Pindan Sao
Keywords:
Talking Stick, Vocabulary
Abstract
The students at Senior High School are teenagers. They were easy to feel bored if teacher taught them by a conventional method. They love to learn everything by a fun way. In this case, the writer tries to improve their ability in mastery English vocabulary, which vocabulary is something important to be learnt. It is one element to sharp the four skills of speaking, listening, reading and writing all together. The writer takes a research about this case. This study is mainly aimed to identify the improvement of student's vocabulary mastery through Talking Stick for the tenth grade students of SMA NEGERI 2 KABUPATEN SORONG in the academic year of 2016/2017. This research is a classroom action research. The methods of collecting data are observation, interview, test instrument and field notes. Then, the writer analyzes them in descriptive and statistical technique. This study takes two cycles. After did two cycles, the writer get a result. Both in the cycle I and cycle II, score of post-test are higher than pre-test. Then, the percentage of students' mastery also improve, while in the first cycle there were only 41% students who could pass the target score of the Minimal Mastery Level Criterion (KKM). In the second cycle, there were 72% students who could pass the target score. Then from the questioner respond, it seems that students interested in learning vocabulary through Talking Stick. These all results indicate that there was significant improvement of students' vocabulary mastery through Talking Stick for the tenth grade students of SMA NEGERI 2 Kabupaten Sorong in the academic year of 2016 /2017. 
Downloads
Download data is not yet available.
References
Brown, H. D. (2001). Teaching by Principles (2nd ed.). NY: Addison Wesley Longman, Inc.
Dita, I. F.( 2015). The Use of Talking Stick to Improve Students' Speaking Skill(A Classroom Action Research on X MIA-2 Students of SMA Negeri 1 Kesambean). Universitas Brawijaya.
Harmer, (2001). The Practice of English Language Teaching. Harlow: Person Education Limited.
Heny, P. (2013). Increasing Students' English Vocabulary Mastery (NUMBER) Through Talking Stick Method in the First Grade of SDN 11 Limboto Barat. Skripsi Fakultas Ilmu Pendidikan: Universitas Negeri Gorontao.
Hornby, A.S. (1995). Oxford Advanced Learners Dictionary of Current English, London: Oxford University Press.
Kridalaksana, H. 2008. Kamus Linguistik. Jakarta:PT Gramedia Pustaka Utama.
Michael, J. W. (2006). Action Research For Language Teachers. Cambridge: Cambridge University Press.
Muttahidah, N. (2011). Improving Students Vocabulary through Vocabulary Card (A Classroom Action Research in The First Year of MTs Nurul Falah, Ciputat. Skripsi, Departement of English Education, the Faculty of Tarbiyah and Teachers' Training, Syarif Hidayatullah State Islamic :University Jakarta.
Rober, E.S. (2010). Cooperative Learning Teori, Riset dan Praktik. Bandung: Nusamedia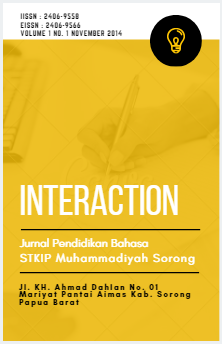 How to Cite
Wibowo, A., Nursalim, N., & Sao, F. (2018). THE IMPLEMENTATION OF TALKING STICK TO IMPROVE STUDENTS' VOCABULARY MASTERY AT THE TENTH GRADE OF SMA NEGERI 2 KABUPATEN SORONG. INTERACTION: Jurnal Pendidikan Bahasa, 5(2), 91-99. https://doi.org/10.36232/jurnalpendidikanbahasa.v5i2.185